Vegan Lemon Chicken Pasta
This six-ingredient vegan pasta sauce with crispy plant-based chicken pieces and vegan Parmesan is a great alternative to your typical mid-week chicken pasta dish. The fresh lemon zest and herbs bring this vegan lemon chicken pasta to life, and you won't even know you are missing out on meat with the Daring vegan chik'n pieces. Best of all, you can whip this recipe up in just 15 minutes from start to finish!
Ingredients For Vegan Lemon Chicken Pasta
Daring lemon & herb Pieces plant-based chik'n – Bring out the lemon and herb flavors in this vegan chicken pasta dish with these seasoned vegan chicken pieces made with soy protein. Not only do they taste delicious, but the texture is remarkably similar to chicken and goes nice and crispy when fried.
Olive oil – If you want to go oil-free, this recipe is not the one for you! The olive oil acts as the base ingredient for the pasta sauce to add a creamy texture and rich flavor.
Garlic – Sauté your garlic for a couple of minutes before adding the other seasonings to your pasta. Cooking the garlic will bring out the flavor while keeping it soft (it also helps with reducing garlic breath, which can never be a bad thing!).
Farfalle pasta – I love using farfalle or bow pasta because the grooves in the pasta hold onto the olive oil sauce and capture all the sauce's delicious herb and lemon flavors. Of course, you can use other pasta shapes if you don't have farfalle to hand. Alternatively, you can use a protein pasta, such as the

Explore Cuisine chickpea fusilli

, for an excellent post-workout meal.
Lemon – Use every part of the lemon, from the juice to the zest, to really bring this vegan lemon chicken sauce to life!
Fresh herbs – My go-to herbs for pairing with lemon and olive oil are parsley and basil for their fresh, light taste. Add in your herbs right before serving to reduce the loss of flavor from the heat. You can also add some finely chopping herbs to garnish your creamy lemon and herb chicken pasta.
Vegan Parmesan cheese – Wait? Vegan Parmesan?! Yep, you read this correctly. Vegans don't need to go without in 2021! My favorite vegan cheese brand is the

Violife Parmesan

 for its nutty taste and hard texture.
Additional ingredients and variations – You may also wish to add some toasted pine nuts to this vegan pasta recipe to add some healthy fats. Roasted broccoli also works beautifully in this pasta vegan lemon pasta sauce to up the nutrient content.
Top Tips For Cooking This Vegan Lemon Chicken Pasta
Use fresh ingredients where possible. I realize it may be hard to find fresh herbs in the winter, but they add more flavor than the dried alternatives. You can even

freeze your fresh herbs

to ensure you always have some on hand.
Don't be tempted to go easy on the oil. Oil can get a lot of bad press in the media, but

extra virgin olive oil particularly can offer multiple health benefits

. It is the base of the flavor for the sauce, and the healthy fats can help satiate your hunger.
To enjoy this meal as a to-go lunch option, simply store your leftovers in the fridge in an airtight container and use within 3-4 days.
INGREDIENTS
8oz Daring Lemon & Herb Pieces ( vegan chicken)
1/4 cup olive oil
1 garlic clove, grated or crushed
8 ounces farfalle pasta
juice and zest of one lemon
1/2 cup parsley and basil, finely chopped  
salt and pepper to taste
1/2 cup freshly grated vegan Parmesan cheese
METHOD
Prepare the pasta according to package and set it aside
Cook the Daring chik'n according to package
Once the chik'n is cooked add in garlic and saute for 2 minutes, then add to prepared pasta
Add more olive oil into the sauce (as needed). Add lemon juice and zest and herbs. Season with salt and pepper. Top with grated vegan Parmesan cheese
Enjoy warm or cold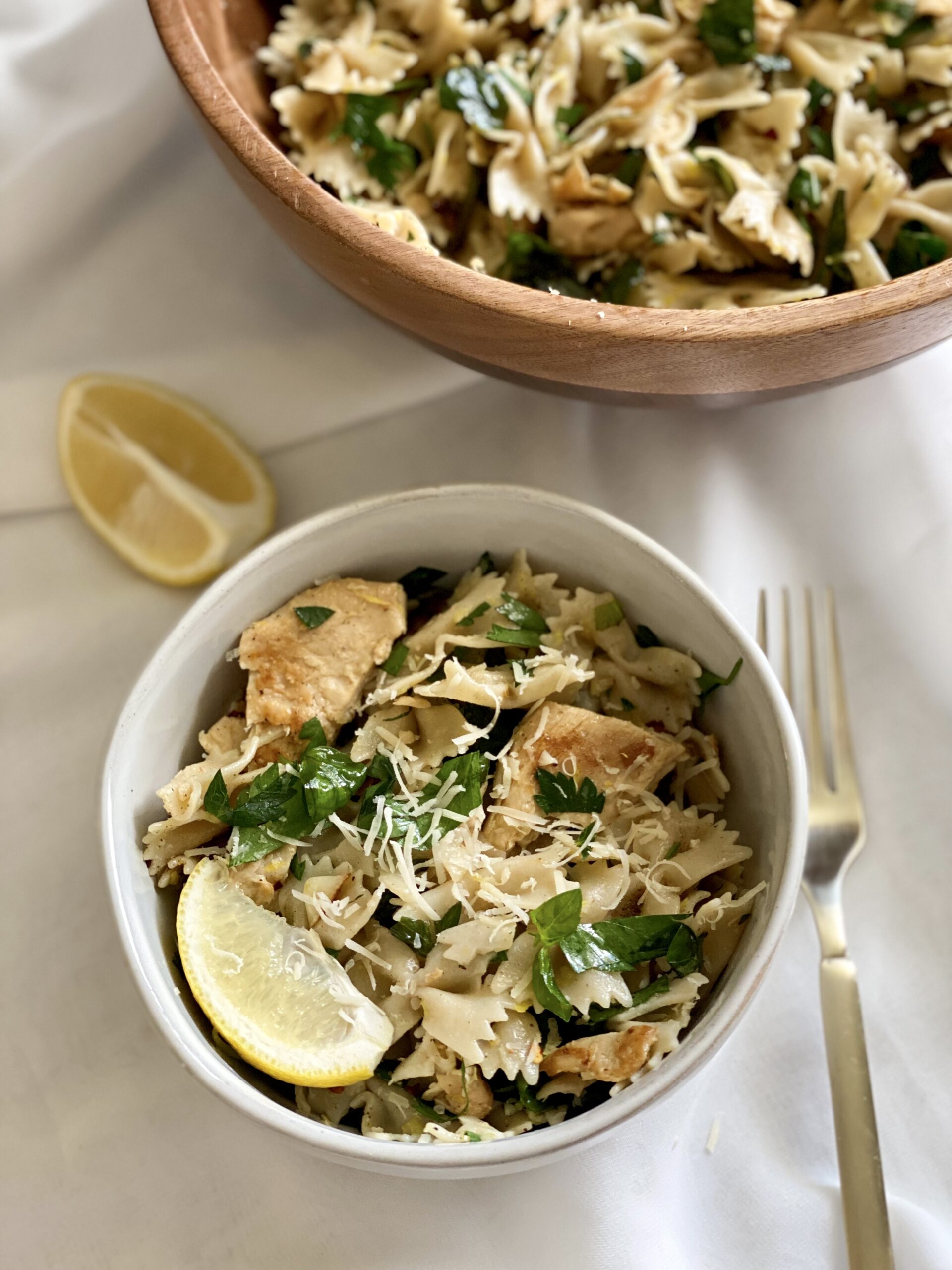 Lemon Herb Vega Chicken Pasta
Ingredients
8

oz

Daring Lemon & Herb Pieces ( plant-based chik'n )

1/4

cup

olive oil

1

garlic clove

grated or crushed

8

oz

farfalle pasta

juice and zest of one lemon

1/2

cup

parsley and basil

finely chopped

salt and pepper to taste

1/2

cup

freshly grated vegan Parmesan cheese
Instructions
Prepare the pasta according to package and set it aside

Cook the Daring chik'n according to package

Once the chik'n is cooked add in garlic and saute for 2 minutes, then add to prepared pasta

Add more olive oil (as needed). Add lemon juice and zest and herbs. Season with salt and pepper. Top with grated vegan Parmesan cheese